How very sad am I
I just reorganized my yarn stash....again. I actually went to Target and bought a bunch of rubbermaid type clear shallow bins. While I was reorganizing and emptying out SoP bags (I've got 15 of them....anybody want any for project bags?), I found
2 more balls of sock yarn
. Does it never end!?! I believe the count now stands at
36
. That's not counting the STR socks that I'm working on now in the Peaseblossum colorway.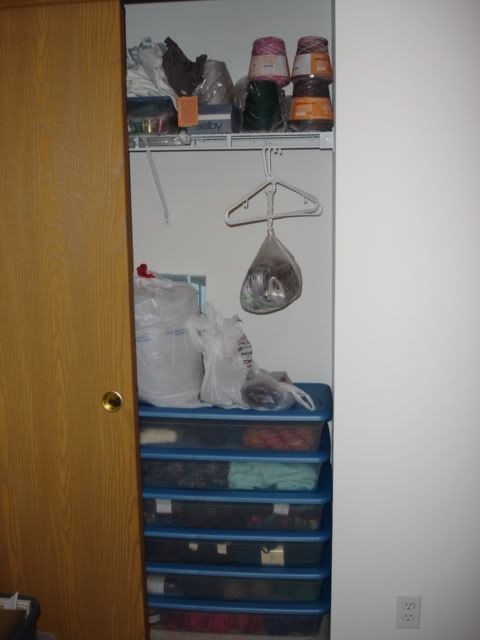 And here's the new, semi-organized closet stash. On the top shelf are my 6 cones of dishcloth cotton, and two cones of Zepher laceweight (mushroom and bottle green). At the top of the stack are my bags of roving (the romeldale, llama, shetland). Then in the bins are (top to bottom): handspun and roving, UFOs, sock yarn, sweater yarn, shawl/scarf/laceweight yarn, and bulky/feltable stuff. Keep in mind that I've still got a ton of stuff in the dresser, but now at least I've got the closet stash somewhat organized.
What else did I accomplish tonight? I did dishes, cleaned the kitchen, finished watching two movies (10 Things I Hate About You and Wimbledon), reorganized my ipod, and threw out a lot of garbage I had lying around the house.
Tomorrow/today (i.e. Saturday), I'm planning on tackling the garage and hauling a bunch of stuff down to the basement so I'm not quite so embarassed to open my garage door. And then I can finally have my housewarming party!!! (Yes, Minnie, you can fall over in shock now. I will have everyone over in August.)