Sock yarn package pictures and a SQUEE!!!
First off, the sock yarn packages that came today. Here they are. It took all my self-control not to rip them open at the mailbox and shower myself in the yarny goodness. But then the neighbors would really think I'm weird.
Here are the box and envelope that were waiting for me in the special "packages" slot of our block's mailbox.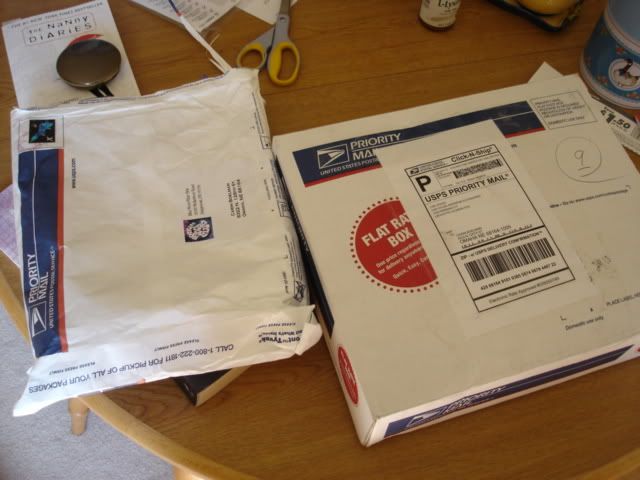 I opened the STR club package first since I had no clue what was coming for that one.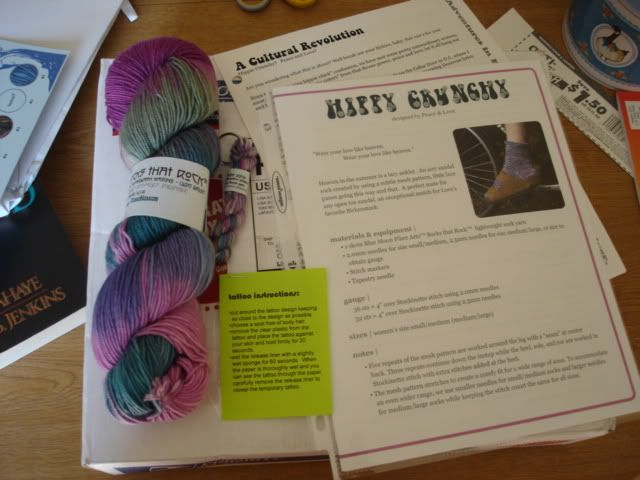 There's the newsletter, a new keychain of emergency sock yarn, a Rockin' Sock Club tattoo, the yarn in Peaseblossum, and the pattern of Hippy Crunchy socks. Interesting...kind of a lace pattern with a short row heel and you can size it up or down by changing needle size instead of the number of stitches.
Here's the yarn up close....it's the lightweight this time and as I sit here in my medium weight Rock and Weave socks, I'm a little disappointed. I enjoyed using a slightly heavier sock yarn, but that's ok. I can handle it.
Gorgeous color as always. And I probably would have picked this one out on my own because really.....who can resist pink, mauve-y purple, soft green and teal with a little white thrown in.
Now for all the Lisa Souza goodies. Left to right is Blue Face Leicester fiber in Emerald City, Superwash Merino in Elektra, then her Sock! yarn in Wild Things, Little Devil, Pacific, Sky Drama, South Pacific, Joseph's Coat and Shade Garden.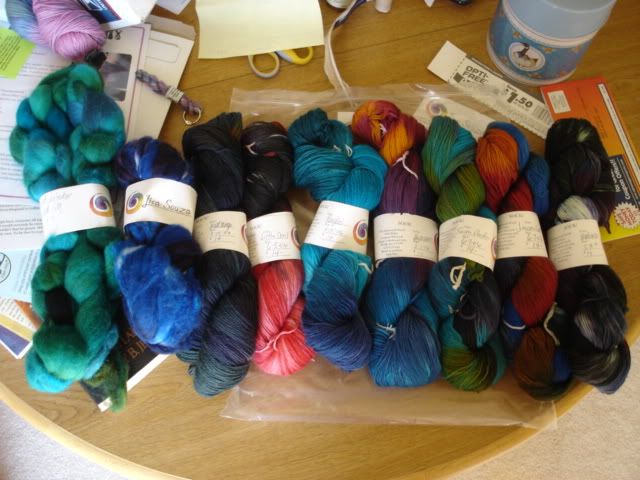 Here's a close-up of the Emerald City fiber. I just want to cuddle this...not even spin it...just cuddle it.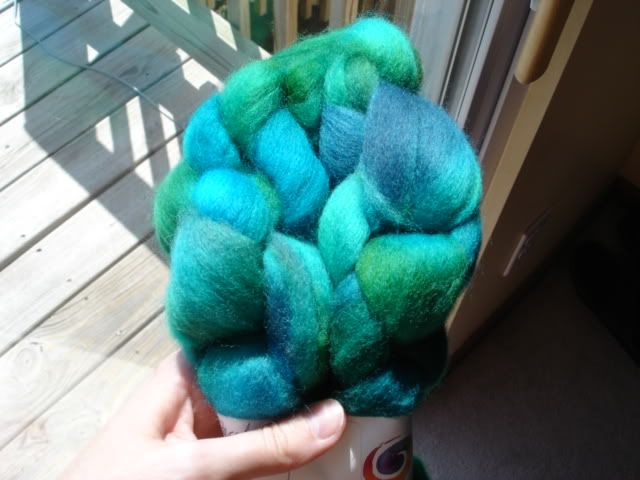 And now for my SQUEE!!! news. The lady that I bought the huge bag of CVM Romeldale roving from (and who gave me the shetland and llama roving that I showed the ladies at SoP last night) is going to open a yarn/fiber shop in my hometown!!!! And she asked my mom to help her run it and teach classes!!!!! AAAAAAAAAAAAAAAAHHHHHHHHH!!!!!
There are no words!!!!! Can I use anymore exclamation points!!!!!!???!!!! They won't be opening up for at least 3 months and no, the shop doesn't have a name yet, but I'm so excited. (As if that wasn't evident.)