the long awaited photo post!
Here it is! Is it a bad thing that I didn't even remember that some of these pictures were on my camera?
First off is the cake that I won in the pie auction at my church. The one right after it is the decoration the lady put on top of it. This was 4 layers of fudgy chocolately goodness. And I ate the whole thing myself (minus two pieces).
Next up are my modified Conwy socks from Knitting on the Road. They were done out of Lorna's Laces shepherd sock in Black Purl. I'm calling them my pirate socks and I'll be wearing them Friday night to see the new Pirates of the Caribbean movie.
Next we'll break up the knitting with the newest addition to the sit and knit at SoP. May I introduce Oliver, Sarah's new baby. Strangely, I was the only one there that wanted to hold him. We have got the strangest group of women....every time I'm in a social setting with a ton of women and a baby, we're fighting over who gets to hold the little one. Strange.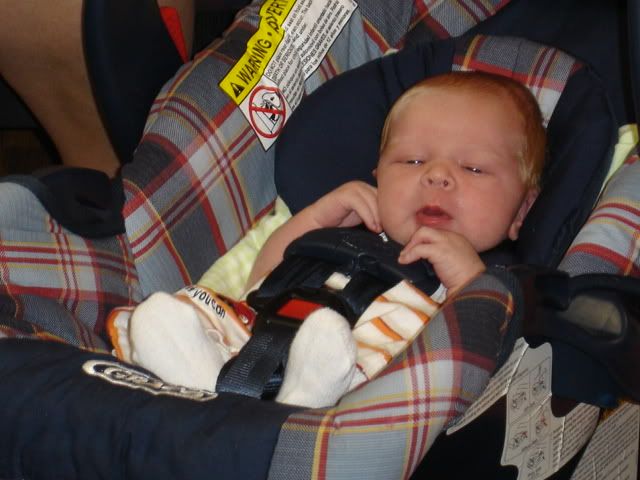 More pirate-y goodness. These are presents for my friend Sarah so she can celebrate PotC2 opening as well. I got the pirate bag pattern from
www.helloyarn.com
. Made it out of Cascade 220 and it felted beautifully. I was so anxious to finish it, that I used the washer at work which is front loading. That was an hour of anxiety on my part. I hated not being able to check on it until the cycle was done. It felted up a bit smaller than I'd like, but I couldn't really control that since the washer door locks during the cycle. And inside the bag is The Princess Bride: Dread Pirate Roberts edition. After I bought that, I had the sinking feeling that I had already given her a Princess Bride dvd, but you can never have too many! I also went out and bought her a bag of M&Ms, the white chocolate Pirate Pearls. That should be enough stuff.
Finally, I finished my Rock and Weave socks that came in from the STR Rockin' Sock Club. Found the buttons at Hancock Fabrics on Monday. The actual knitting was finished on last Thursday and I didn't start another sock until this Tuesday.
Five days without a sock on the needles!!!!!
I nearly went into shock from the sock withdrawl.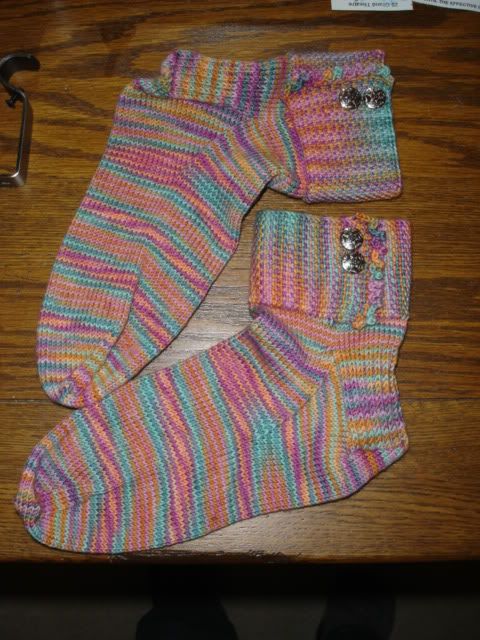 I've since started a pair of Dublin Bay socks using STR lightweight in Fire on the Mountain. The colors are so vivid that I'm going to call them my Lite Brite socks.
And just so no one worries, I'm going to be on vacation in northern Minnesota and then northern Iowa for the next two weeks. I'll be at SoP today and then take off for home in the morning. I'll be without internet access for at least the first week of that. Vacation knitting will include: the Lite Brite socks, my Leaf Lace shawl, and some dishcloths (for when it's too hot for either the wool or alpaca).
ETA: Apparently, Phoebe (the destructo-dog) doesn't appreciate me blogging and hence not paying attention to her. I went downstairs to find her sitting in my big chair in the living room and destroying one of my bamboo dpns. One of the dpns that was in my Lite Brite sock...one that was actually holding stitches...and she had completely pulled it out of the stitches. So pretty much everything I had knit on it tonight has now been frogged. GAH!!!!