Another photo post...this time with more vacation!
Here I am in Algona...attempting to do a blog entry while corraling the two littlest dogs (my Phoebe and my mom's Toffee). It's pretty easy...or was until my dog just decided to relieve herself on the carpet. Just so you can all see how cute she used to be...here she is the day that I brought her home and gave her her first bath.
So before my vacation started, I had written how my destructo-dog had chewed up a dpn from my sock. This next pic shows how a recovered...listening to Lime & Violet while frogging, then repairing the damage. What you can't see is my new set-up for yarn winding. To the left is my ballwinder and to the right is my swift. Works pretty well.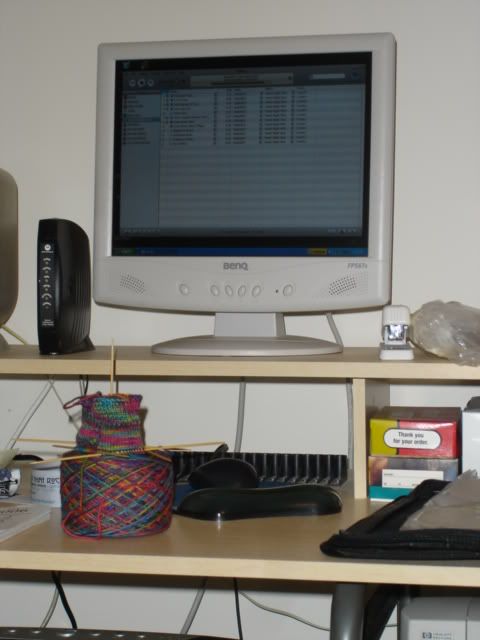 Next up is Mary at SoP a couple of weeks ago. She's modeling her latest bag that's waiting to be felted. Someone made the comment when she held it up that the bag looked like a pair of liederhosen, so she had to model it for us bloggers to get a picture and embarrass her.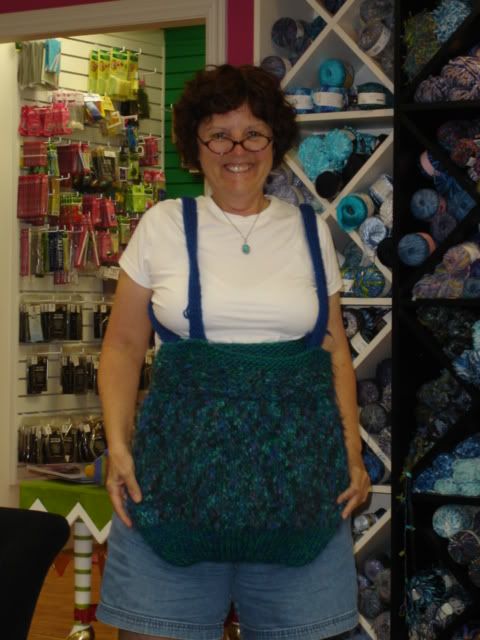 And the moon...shining over Gull Lake. Took this from my uncle's dock before it got too dark.
It was so peaceful and relaxing there. Sitting out in front of the bunkhouse, drinking coffee and watching a family of mallards swim by every morning, or having a baby bunny or chipmunk hop up for a visit. The whole thing was like out of a Disney movie. Then brunch...then, maybe, get dressed by 10:30. I took the time to teach my aunt to knit. And danged if that woman didn't pick it up right away. She was well into her second dishcloth by the time I left.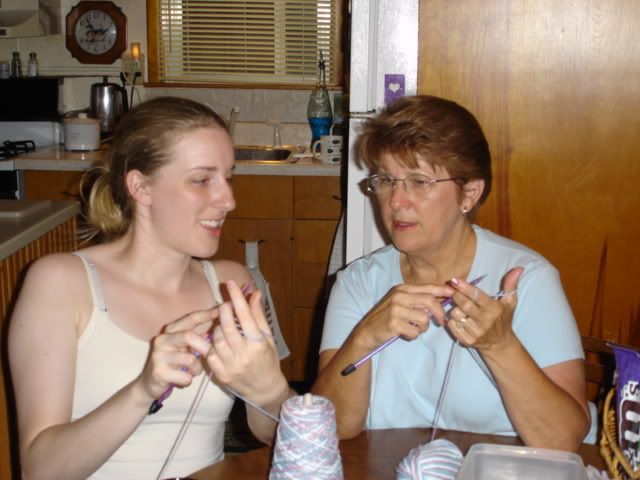 We went out for "Breakfast on the Barge" (AKA the pontoon) our next to last morning there. Drove (boated?) by Kristi Yamaguchi's tiny lake house....
....yeah. It's on the market by the way. Anyone interested in pitching in? I think if we all pooled our money, we might be able to make the $7.9 million price that they're asking. (end sarcasm)
Thanks to my aunt's sleuthing (and this was before she was a knitter), we got to visit two yarn shops that were pretty close by. The first is actually a quilt shop that I can't remember the name of, but they have got one heck of a selection. First, I found the Mountain Colors sock yarn(and came away with some other hanks, but they're presents, so no lookie!)...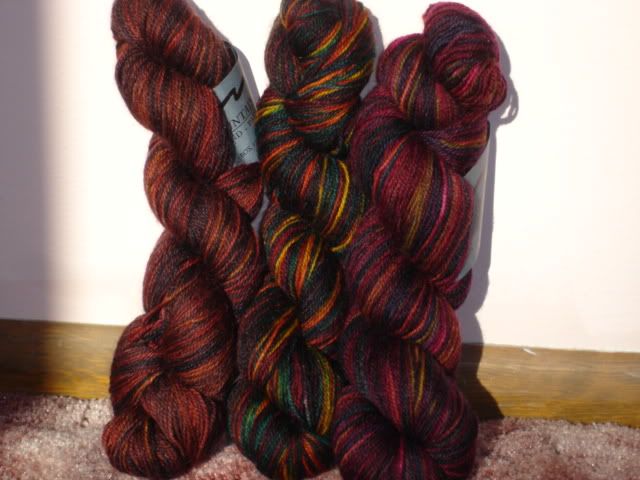 ...and came away with Red Tail Hawk, Northern Lights, and Wild Raspberry.
Further digging in the sock yarn bins revealed Trekking XXL in 66 and 76.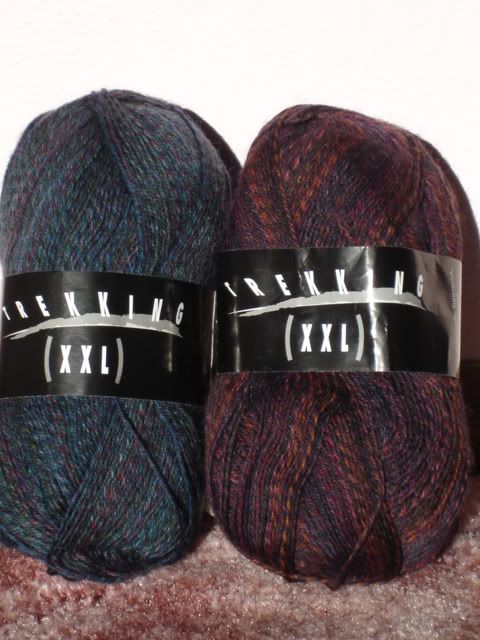 And then at the back of the store, the heavens opened, golden rays of sunshine poured forth and celestial choirs sang a perfect chord. I had found it.....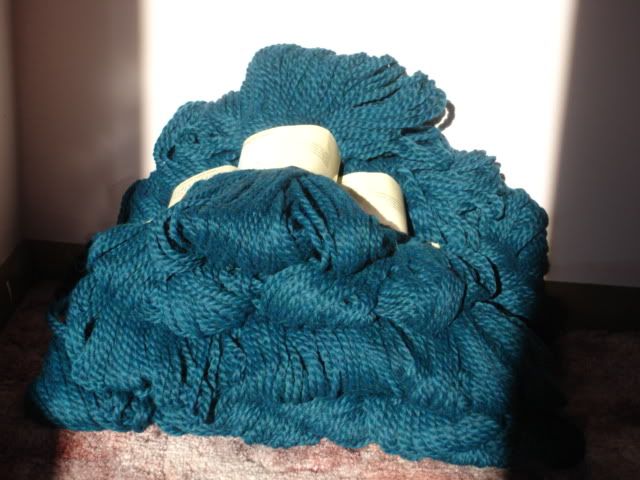 ...the Misty Alpaca in a color so perfect I thought I would drown in it. I bought all ten skeins. This is gonna be a Blackberry cardigan from the fall Knitty. All of the Rowan tweed that I had kind of settled on in December (when there wasn't enough of the color I really wanted) will be returned to SoP. That's how I'm justifying that purchase. Yeppers. *enthusiastic head nods*
The next store was set back in a little strip mall by Famous Dave's and it was called Among the Pines. Store owner was very nice and was very enthusiastic about SoP when I mentioned that I was from Omaha. She was looking into expanding some of her yarn lines (specifically sock yarn) and asked me and my mom for some brands during their sit and knit. I told her everything. Set her onto Blue Moon Fiber Arts STR, Lisa Souza, Opal, Mountain Colors (she had other weights, but not the sock yarn), and a variety of others. I guess I got a little enthusiastic and she told me that I missed my calling in life as a yarn rep. Of course we went there two days. Here's the haul.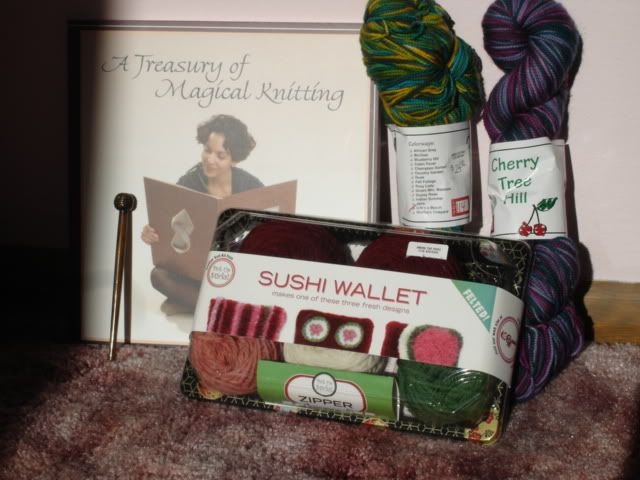 That's A Treasury of Magical Knitting, a hand-carved shawl pin (that's great for putting up hair too), CTH supersock in Life's a Beach and Spanish Moss, and a sushi wallet kit. Everything but the wallet kit was bought on the first trip. On the second trip in for knit night, I mentioned Lime and Violet to the shop owned, and while she's not a listener (yet!), I told her about the sushi wallet kits and how Violet had raved about them. No sooner has the words "sushi wallet" passed my lips, than she said "We have those!" How I missed them on the first go around the shop I do not know. So I had to get one.
Got a bunch of other non-knitting stuff too, along with some birthday and Christmas presents. All-in-all I spent way too much money, but I figure that I'm just pre-planning should the world's sheep and alpaca ever stop producing wool.
And remind me to tell you ladies on Thursday about Dog Smog.