I'm siiiiiiiiiiiiiiiiiiiiiiiiiiiiiicck!!
And whiny. Stupid cold. *kicks cold*
Now onto the good news!! And there are many, so here comes another bulleted list!!
- Congratulations to
Minnie
! May you and Mark have many happy years together. We missed you on Thursday!
- I've sucked another one in! Here's Jackie, another co-worker, starting a scarf for her daughter in the wee hours of Friday morning.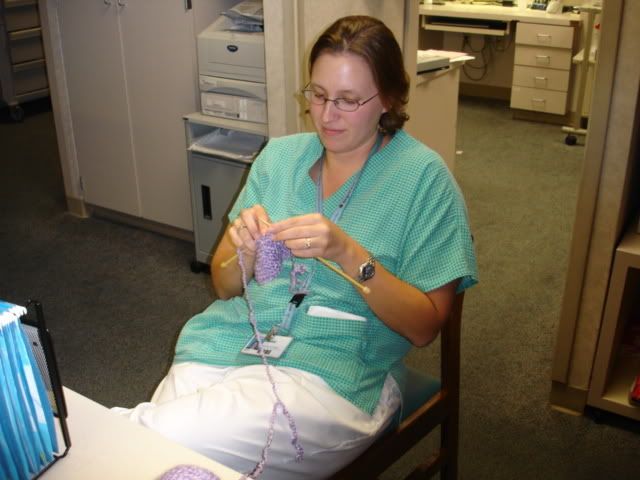 - My most recent pair of socks is done! I'm going to call them my Pacific Wave socks. They're done in Lisa Souza Sock! yarn in the Pacific colorway. I used a pattern my last Knitty SP sent me called Caribbean Twist. Sorry for the cruddy picture. I'll post a better one once they're washed.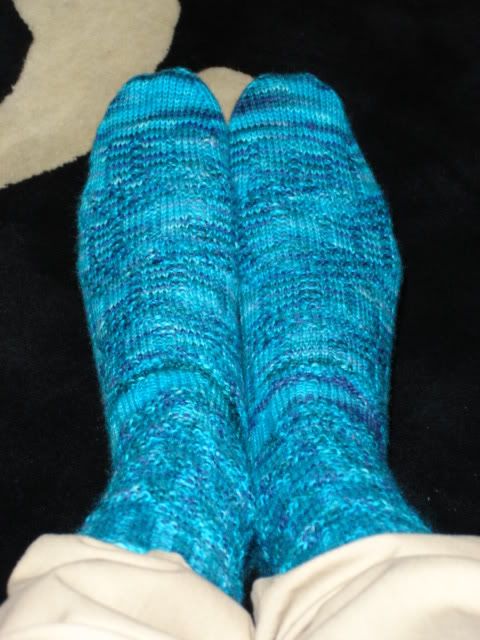 - My stuff I ordered from Lisa Souza came yesterday!! I got Sock! in the LimeNViolet colorway (of course), and some Fat Bunny in Mars Quake that is destined to be one of the fabulous Italian Job hats that Lisa also offers on her site.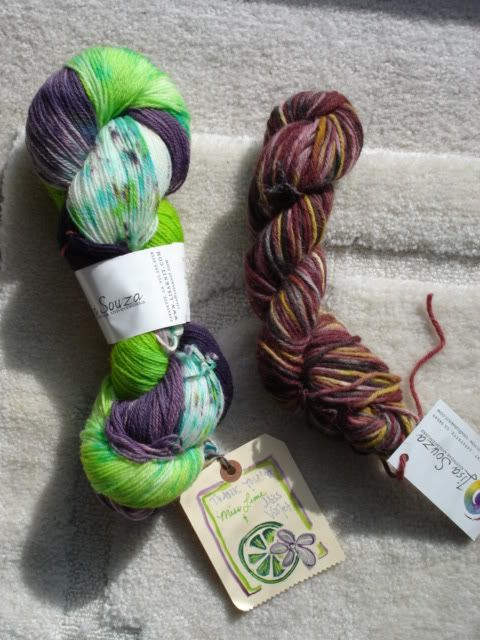 - And lastly, I got not one, but TWO packages from Blue Moon in the mail today. One had my skeins of Scottish Highlands and County Clare in it, and the other was my Rockin' Sock Club package for September. That's the color on the right. I'm not too crazy about it at the moment, but I'm sure it'll grow on me. The color's called Titania and it's the second of three in the Midsummer's Night series. A lot darker and richer than the last two.
So aside from this crappy cold, it's been a great day!!