Photo post and a yarny confession
Let's start with the pictures!
First off is the clapotis I finished last week out of Noro Silk Garden #82. It blocked out bigger than I thought it would, but that's ok....there's just more yarny goodness to wrap myself in.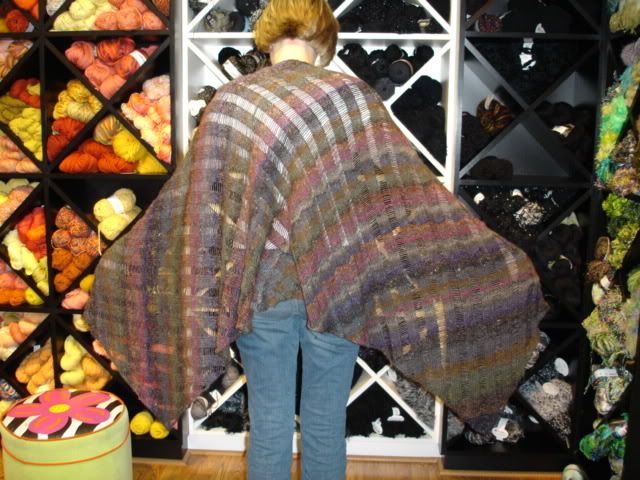 Next is my proud knitter moment of the week. This is my co-worker, Shannan, who waited until her next-to-the-last night at work to ask me to teach her to knit. She's taken a job at a different hospital, but one of the other girls told me that she already finished knitting that scarf and just needs me to help her with the bind-off. She picked it up really fast and I'm hoping that I've converted another one. *evil cackle*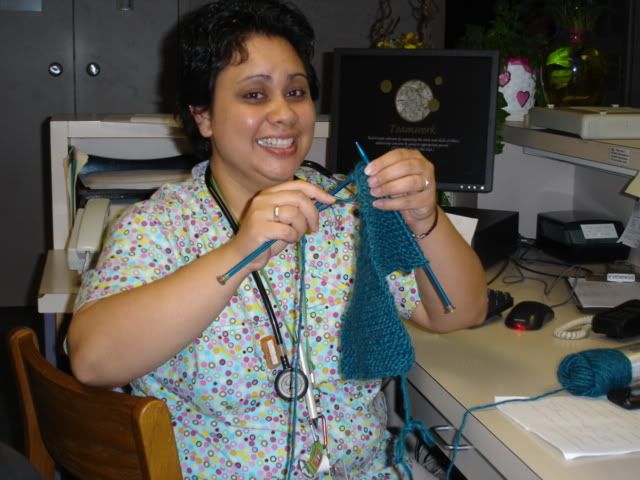 Lastly, these are some of my clematis that I've got growing up my back deck. I've actually got lavender, pink, white, and deep purple. However, the white ones seem to be flourishing faster than the other three. And I must have some kind of mutant clematis because all my memories of it at my grandparents' farm was that each flower only had 5 or 6 petals. These suckers have 10! I'm not complaining, they're still gorgeous, just different from what I expected.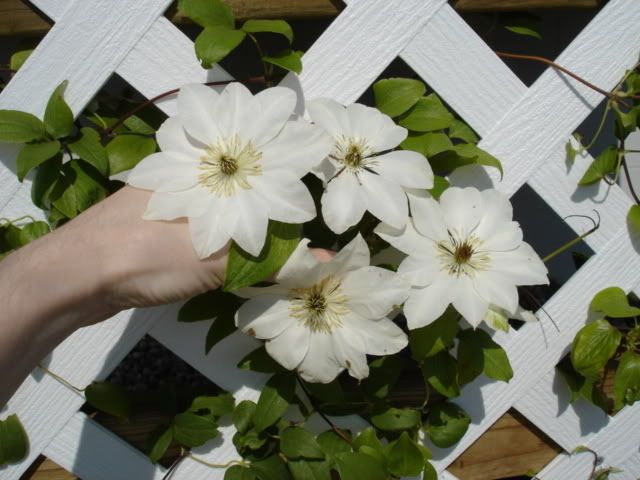 Now for my confession. I was very very bad with the credit card tonight. Not as bad as I could have been, but bad enough. It all started with my innocent little Knitpicks order. I got the dpns sizes 0, 1, 2, and 3, three laced shawl patterns, and a kit to make an afghan as a wedding present for a co-worker.
I should have stopped there, but it was just too easy to click on over to the Blue Moon Fiber Arts site and order Scottish Highlands medium weight and County Clare light weight.
Then I had to support my two favorite podcasters, Lime & Violet, by going to the Lisa Souza website and ordering the sock yarn in their namesake colorway. And a skein of the Fat Bunny yarn in Mars Quake along with the pattern for The Italian Job hat may have made its way into my basket too.
That's it!! I'm done with yarn buying until November!! That's when I'm going up to the Twin Cities for the wedding of one of my friends from college. Anyone up for a yarn crawl?
Oh yeah....I may make an exception if I find the yarn to make this hat for Halloween. The pattern is from
bleuarts
, and I found it through the Cast-On podcast. My Halloween costume is set!!