Six weird things and some sock stuff
Let's start off with the sock stuff. My final Rockin' Sock Club '06 package arrived on Saturday. The one for the kit is a lightweight called Mustang Sally. It really reminds me of the Ruby Slippers that I bought last year. I'm going to have to do a side-by-side comparison of the two in daylight this weekend. The pattern is called Winter's Eve by Sivia Harding and it's gorgeous!! Cables and beads and.....ooooohhh.....prettiness!
There's also a bonus skein of medium-weight STR in Rare Gems. From what I've seen on other blogs, everyone's is different. Mine's a lot darker than the skeins I've seen. Navy, burgundy and chocolate brown. Yummy!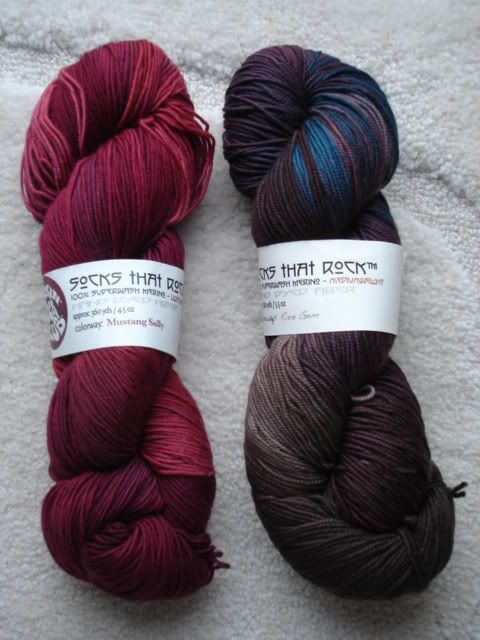 And now for my six weird things.
1. When I'm anticipating a movie that I really want to see, I'll do obsessive research about it online and in magazines. I absolutely love all the behind-the-scenes stuff.
2. I'm a nosy neighbor. You know the kind....the ones that spy on their neighbors by peering through the mini-blinds? That's me. I'll catch myself doing it and I'm really trying to stop, but it's so hard!! I almost wish my housing development had a neighborhood watch so that I had a legitimate reason to spy on people.
3. I've been accused of having an eating disorder since I was a teenager. This is insane because I love to eat, hate to exercise (can you say couch potato?), and can't even stand the thought of throwing up let alone
making
myself throw up. I actually had a counselor at church camp try to counsel me about eating disorders one summer because I would always have to pee right after we ate a meal and I'd make a bee-line for the bathroom as soon as I was done eating. What can I say? When you gotta go, you gotta go!
4. When I like a movie, I'll watch it obsessively until I'm sick of it. Then I won't watch it for a few months and then start watching it obsessively again. That leads me to #5.
5. I can accurately memorize quotes from a movie after only watching it a couple of times. Three that took me a little bit longer are from Lord of the Rings, The Emperor's New Groove and PotC: Curse of the Black Pearl.
6. I love to sing (especially show tunes), but I don't really like singing in front of other people. I think it's due to the fact that I took voice lessons through high school and college and had too many people judging my singing. I'll sing for church occasionally, but never in public. Karoke scares me to death. Again with the judging.