sock orphans
The last few days here have been the days of sock orphans. Let's not even discuss the Christmas knitting....I'm with Miss Violet in the land of Denial about that.
The first sock orphan off the needles was the RPM socks that I'm doing in Scottish Highlands medium weight STR for a friend who lives in Scotland. She has absolutely no idea that I'm knitting socks for her. I've basically been emailing and asking for shoe sizes and then having to email again and ask whether that shoe size was US or UK. I'm sure she probably thinks I'm insane. I've dubbed these socks "The Ugly Socks."
I've never had such a pooling problem with STR before. What's that? You can't see it? Let me show you. Here's the back....not too bad....I can live with that...a pretty burgundy zig-zag down the back of the sock bordered by the light blue.
And then the front. It looks like a Green Bay Packers fan threw up on it. Why the green and yellow decided to stripe every row and then pool like that down the whole front of the sock is beyond me.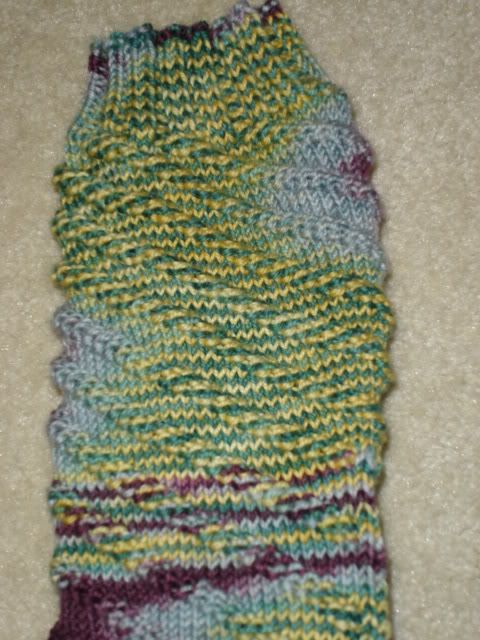 I'll probably get to the second sock sometime in January....or at least after Christmas.
The next sock orphan is from my November Rockin' Sock Club kit. The yarn is STR medium-weight Pink Granite and the pattern is a faux cable called Marble Arches. I had put off doing this pattern for three reasons. Reason #1 - It's knit on size 1 needles. Nothing ever goes fast for me on size 1s.
Reason #2 - There's a short row heel. Not counting the Hippy Crunchy socks that I did out of the July kit, this is the first short row heel I've done since the disaster that was my second pair of socks. I never wear that pair of socks because the short row heel makes this instep so tight that blood flow to my foot is cut off and within about 3 minutes of putting the socks on, my toes are numb. Not so with this sock. I'm loving it.
Reason #3 - Since I was doing the largest size, I had to cast on 156 stitches. Yes....you read that right.
ONE HUNDRED AND FIFTY-SIX!!!!
Of course, they have you decrease within the first couple of rows to a reasonable amount of stitches, but still!! But through the amazing pattern writing of the woman who designed these socks, you end up with a pretty, girly ruffled edge to the cuff. Very nice. Here's a close-up of that edge and the faux cable pattern.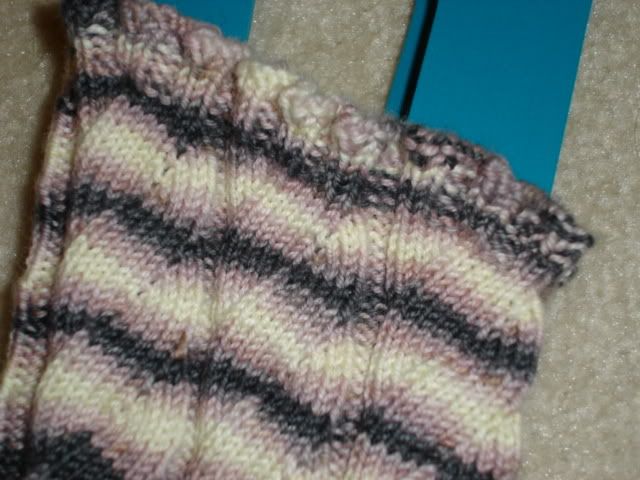 I've also got the first sock I'm test-knitting for Miss Lime on the needles. I made it through the ribbing and one whole pattern repeat while I was watching White Christmas the other night. I need to break out more of the movies that I can quote verbatim (Lord of the Rings, Star Wars, Back to the Future, Indiana Jones, and my entire 7 seasons of Star Trek Voyager) so I can concentrate on knitting this pattern.
And now I suppose that I'd better head off to bed so I can get up early this afternoon to decide what I'm taking to church for my knitting/spinning presentation tonight. I've already found the Bible verse I'm going to quote at some point.
The writer of the psalm is talking about God. "For you created my inmost being; you knit me together in my mother's womb." --Psalm 139: 13
I know that's completely out of context, but I'm going to use it as proof that God knits!