Still snowed in...
So it's 2 AM Saturday morning and the county snow plows still haven't been by to clear my neighborhood. I can't make it out of my driveway, let alone down the street.
Had to have the neighbor cop drive me into work on Thursday night. Then work almost didn't let me go home Friday morning (ended up staying there 'til almost 9 before they let me leave).
So I guess this whole weekend is going to be spent not able to leave the house for anything. At least I'll get a lot of knitting time in!
Speaking of knitting....I'm 24" into the secret project, almost have the second cuff done on my Rocktober socks, and haven't touched the second trekking sock since I turned the heel. I guess I'll try to finish those three things this weekend while I wait and see if the USPS can make it out here to deliver my STR sock club package. I know it's been mailed, so now it's a waiting game.
And here's a mini-rant for you. The USPS....whatever happened to sticking with their motto....you know the one. Come wind, come rain, come sleet, come shine. But I guess that doesn't say anything about blizzards.
Cleaning will happen this weekend too. My parents weren't able to come down because of the storm hitting everything between them and me, but my aunt and uncle are flying to Reno this next Wednesday. So I told them they could stay over Tuesday night since their flight's so early.
Guess I'll get back to my knitting and movie watching.
Forgot to add that I finally sent Erin her Christmas present, so I can now post pictures of it!!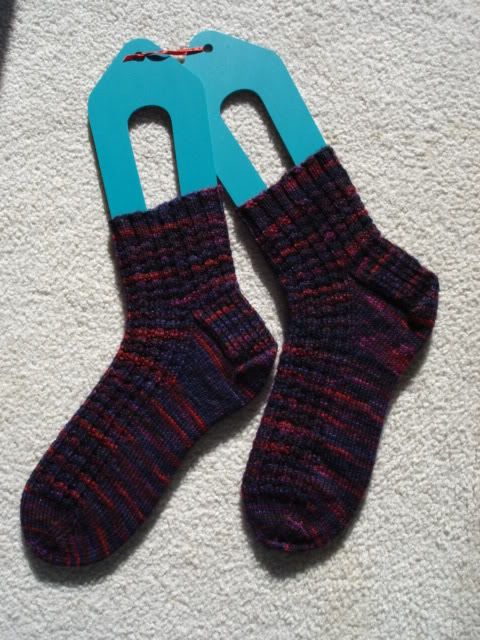 They're a pattern called Blueberry Waffle socks (which I've lost the link to), knit in Mountain Colors Bearfoot, colorway Crazy Lady. Modified to be done on size 2s. It's hard to tell in the picture, but they're a mix of navy blue, red, purple, burgundy, and a little bit of deep magenta.
Labels: knitting, weekend plans