yarn vacation day 1 - Friday
Mom and I started off our first vacation day with coffee and a cinnamon roll at a local coffee shop. After packing the car, we headed south to Fort Dodge and Wild Abandonment. Fairly new shop that's only been open about 6 months so the selection is kind of limited. I returned the 3 extra balls of ribbon yarn from my ribbon x-back and got some Cascade 220 and Crystal Palace Squiggle to make a sophie bag as a birthday present for a friend. Don't have a pic of that yet, I'll do that tonight at sit and knit.
From there we headed out to West Des Moines and had our first headache of the trip. I-235 is in the middle of some major construction so the exit we had to take was blocked, as were the next two exits after it. Lovely. Through some creative driving and a very helpful roadmap that I'd forgotten I had in my car, we made it to Creative Corner and Donna's in Valley Junction. Here's the haul from that. They just happened to be having a sidewalk sale, so I got the Debbie Bliss Cashmerino Aran for $5/ball. Planning on an Irish Hiking Scarf for my dad as a Christmas present.
After dinner at Perkins, we headed back to Omaha for the night and so I could make it to the midnight release of HBP in full uniform.
So everyone can see how short the skirt actually is.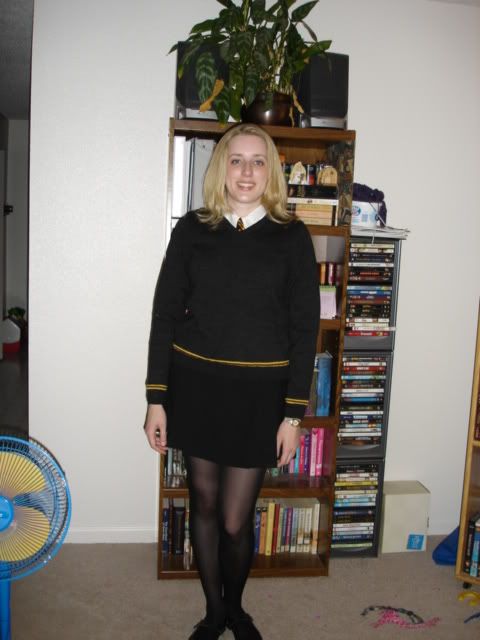 And with the robe that Mom helped me finish.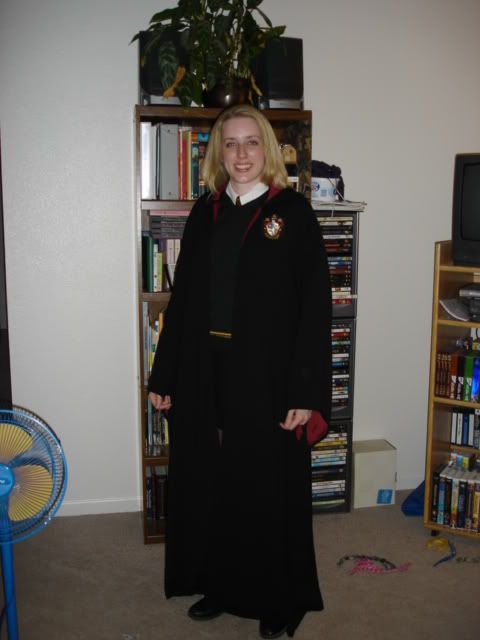 And knitting in public while I wait for midnight and try not to pass out from all the wool I'm wearing. That's the beginnings of my PoA Gryffindor scarf for the movie release of GoF in November.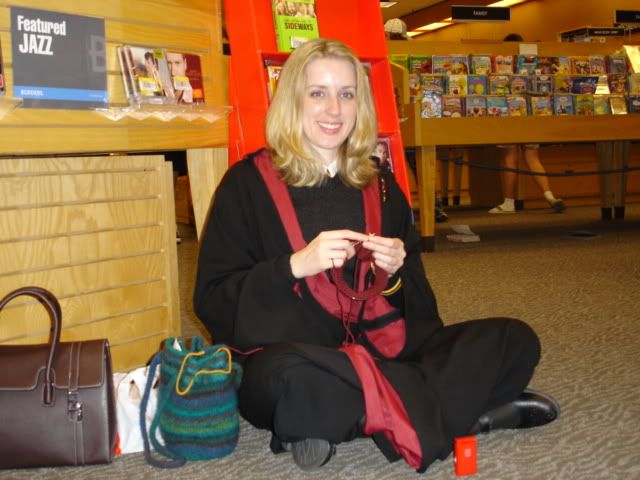 I'll post more next. Just don't want these entries getting too long.