twisted swing dancing socks!
The twisted rib swing dancing socks are done!!!!! Yay! They're done with about a ball and a half of Knitpicks Dancing sock yarn in Swing using the free twisted rib sock pattern off their site. I love this pattern! So easy to memorize and so quick to knit on size 3s.
Decided to take a picture of my sock yarn stash to prove to the world (and my SP) that despite all my talking about getting more sock yarn and wanting more sock yarn, that I really don't
need
anymore sock yarn. That's enough for me to knit 18 pairs of socks, if I've counted right. And yes....I've added more to the stash since this picture was taken Thursday afternoon. I bought a skein of CTH Silver Streak when I went to SoP tonight. But in my defense, it was my birthday present to myself along with some merino laceweight in a dark grey that's going to be made into some sort of fabulous shawl eventually. And that's Phoebe trying to horn in on the action.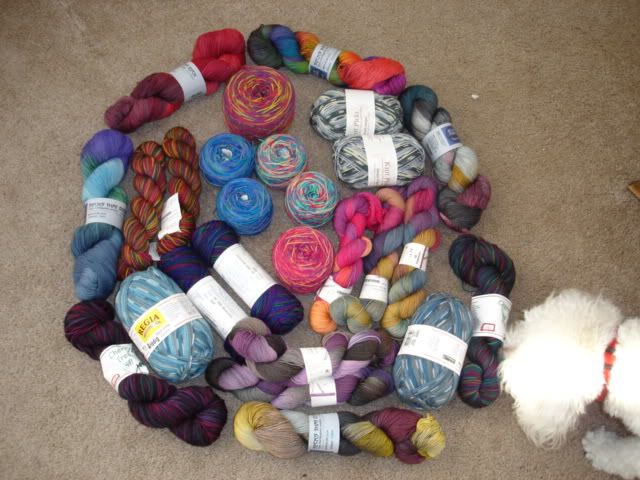 And now a couple of close-ups for the CTH Peacock and Northern Lights. They were such divas that they demanded private photoshoots and these were their best shots. (Anyone get the reference to one of my guilty pleasure tv shows?)