promises, promises
And here I am! A woman of my word....a little late, but better late than never. I come bearing pictures of FOs and luscious sock yarn. We'll go oldest to youngest this time.
First up is the Cleaves that I made last summer after my yarn vacation. It's out of Lamb's Pride Bulky in Persian Peacock, a beautiful rich teal color. The picture stinks, but I forgot to have my mom take a picture of me in it while she was here this weekend so I had to resort to the bad bathroom mirror pictures. Please ignore the little light colored spots...shows how badly I need to clean my bathroom mirror.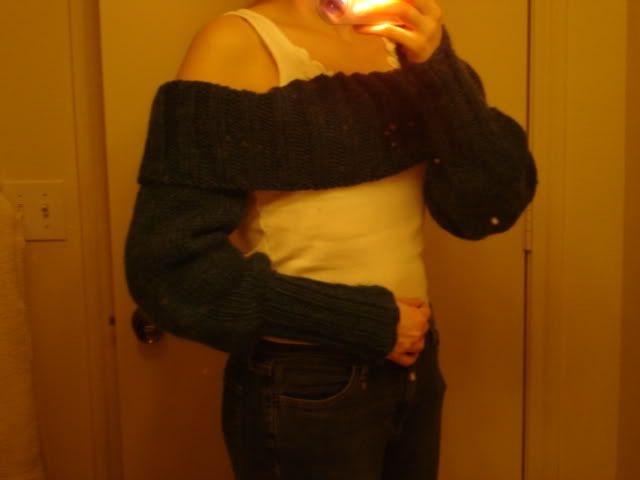 Next up is my Mango Moon sari silk shawl. So pretty and distinctive and it can double as a really long scarf. I didn't get pictures of the scarf that I made for a coworker out of the leftovers, but it was the same stitch pattern, only narrower.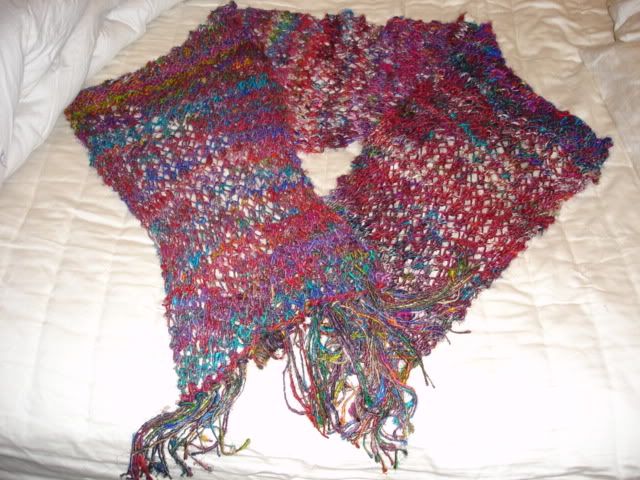 Next on the runway is my beat-up old teddy bear Gus. Gus helped my through many tough times in collage, and is looking a little worse for wear because of it, but he can still model a baby sweater with the best of them. This is the child's placket sweater out of
Last Minute Knitted Gifts
knit in Knitpicks' Crayon in red. I did the smallest size and it only took about 1 1/2 balls of yarn. This is going to get mailed to my cousin this week along with the spiral baby blanket I made and posted about months ago.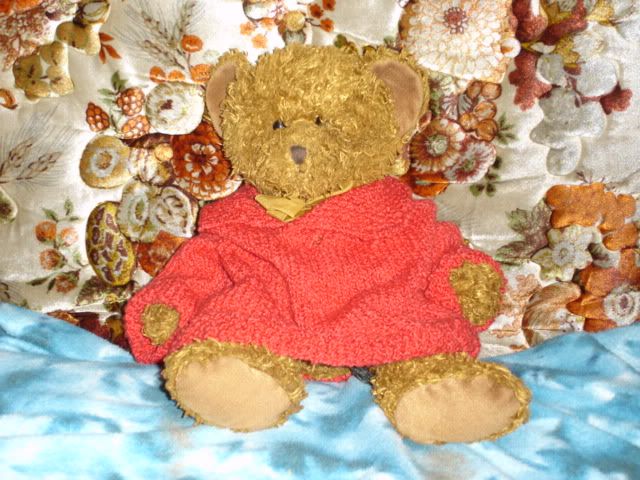 And just so you can see the lovely grey January sky here, I decided to take a picture of my mini-sweater outdoors. I still don't have the button sewn on, just held on with a safety pin, so I still need to attach that and sew a snap on the inside since I'm kind of going for the double breasted look here. Other people must have bigger rib cages than I do, but I like how it looks. I may still do some sort of edging around the bottom and the sleeves, but for now it's done. This was the minisweater off of Glampyre's website done in some some superwash La Perfecta from Textiles A Mano. Got this yarn on the yarn vacation too.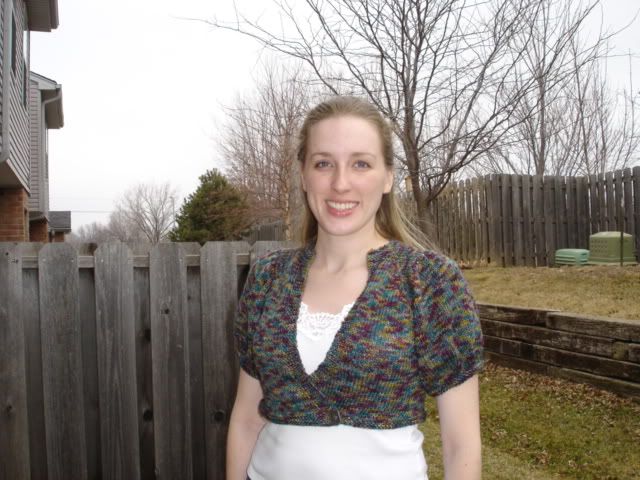 Not exactly an FO, but getting there. My twisted rib socks in Knitpicks' Dancing yarn in Swing. So they're my twisted swing dancing socks.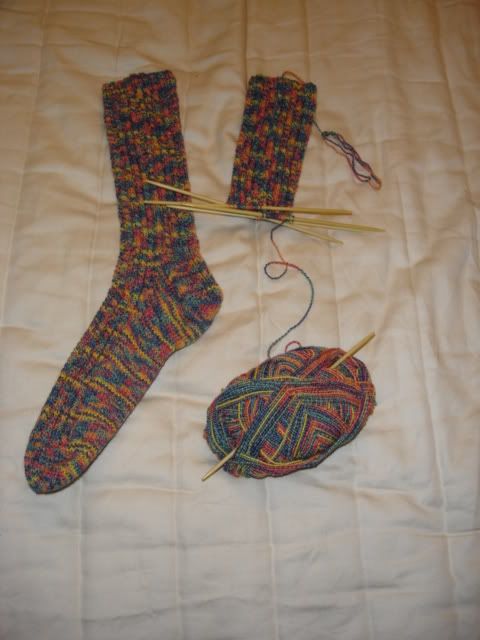 And now for the sock yarn. Be ready to drool. Maybe put a towel over your keyboard for protection.
I apologize for the bad lighting. But it's the best I can do for almost 10 PM. Seven skeins of assorted Socks That Rock and Cherry Tree Hill. Left to right we have STR Carbon Dating, STR Fire on the Mountain, CTH Peacock, STR Carbon, CTH Northern Lights, STR Ruby Slippers, and STR Lapis. I just want to pet them and snuggle them for a while.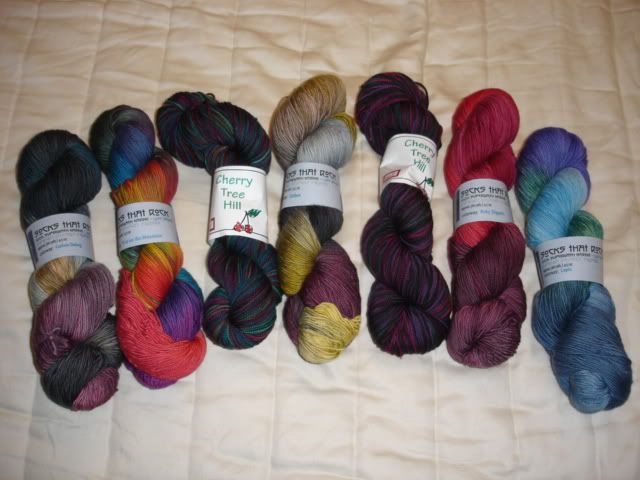 And I finally made it to Touche this weekend with my mom. Bought a whole bunch of Alpaca to make the Ombre Alpaca Blanket from LMKG and two balls of some locally dyed superwash wool in a color called Fairy Forest. Then we went to SoP and I bought three balls of Noro Aurora in a grey/cream/brown colorway to make an entrelac scarf (like your's Erin, but I'm going to make mine narrower).
And there you have it. Enjoy! Don't expect an update like this for a good long while because I need to do some serious knitting and whittle the stash down....and I've signs up for SP6 on the knitty board so that will keep me busy for a while.