I'd like to introduce....
Grace, my new spinning wheel!
She's a Lendrum double treadle and I'm loving spinning! I decided to call her Grace after a good friend's daughter who I know would be fascinated with the whole process and want to spend hours playing with it. But their family is in the process of moving from Jamaica to South Korea for some mission work.
Here's what I've accomplished so far.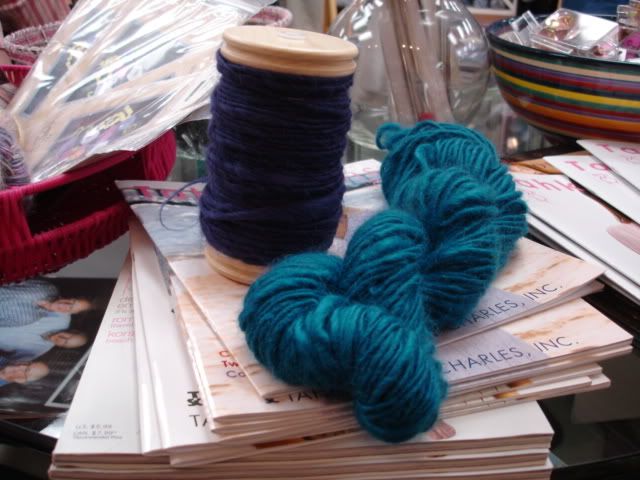 I actually did two bobbins of the teal Wensleydale wool, but one of those made it's way home with Erin last Thursday as part of her very belated birthday present.
The purple/plum that's on the bobbin...
was done while I was at SoP on Thursday. It's completely overspun and not even at all, but guys...I'm making yarn!!!
After the purple was done, I broke into some of my Blue Moon Fiber Arts merino in the Cornucopia color and started to spin that much more evenly.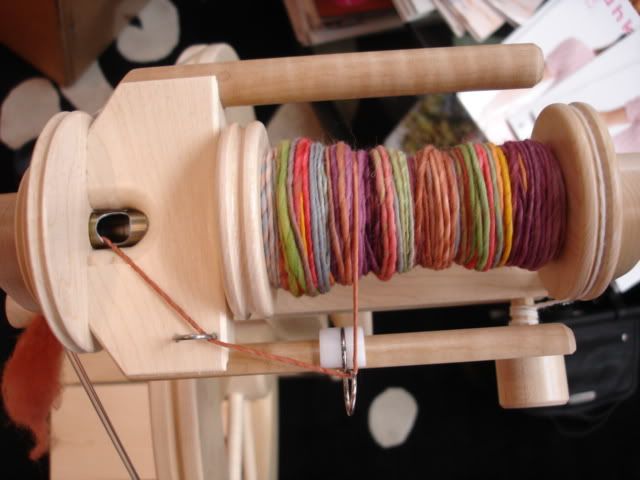 Did some more spinning on that tonight and the bobbin is now full. I've still probably got half the fiber left in that color. If Minnie's going to be at SoP Thursday, then I'll bring Grace so she can teach me to Navajo ply this stuff.
And I didn't go see Debbie Stoller, but I did finish my Hurry Up Spring armwarmers. They're a little tight around the thumbs, but I can fix that if I do another pair. They're really comfortable and keep my hands nice and warm. Now if only I could wear them at work.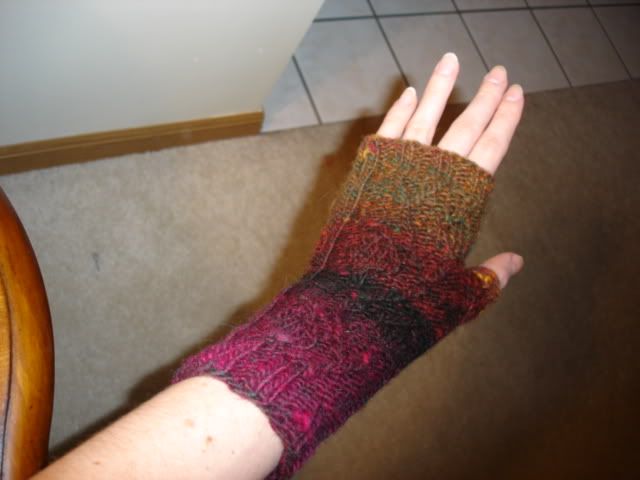 In knitting news....
I'm finally past the heel gusset of the second jaywalker. Just need to get my butt motivated to finish them.
The baby blanket is progressing nicely. I've got about 2 feet done and want to try to get another foot by next week. My coworker looks like she's about to pop at any time and I want to get this to her before then, but no rush if it's a little late.
I guess that's it for the time being. If the sun ever starts shining again, I'll try to get pictures of all the pretty pretty fiber I've got.