what a brat
The Pheebes is being a brat this afternoon. Thinking I'm going to have to put her down for a nap so I can get something done.....Now that that's done, I can do a major update with no interruptions. Off we go!
I guess we'll go in order for the week. Wednesday I put in an offer on a house that I saw last weekend. Got a counter offer back at 5:30 that night and agreed to it. Signed the final papers on Thursday morning after spending 30 minutes in rush hour traffic during a snowstorm (to make a trip that normally takes 10 minutes). So here's my house!
I take possession March 31, so I'll have a month to get stuff out of my townhome before my lease is up. Yay! *insert happy dance here*
It's even got a big lovely SOLD sign out front. See?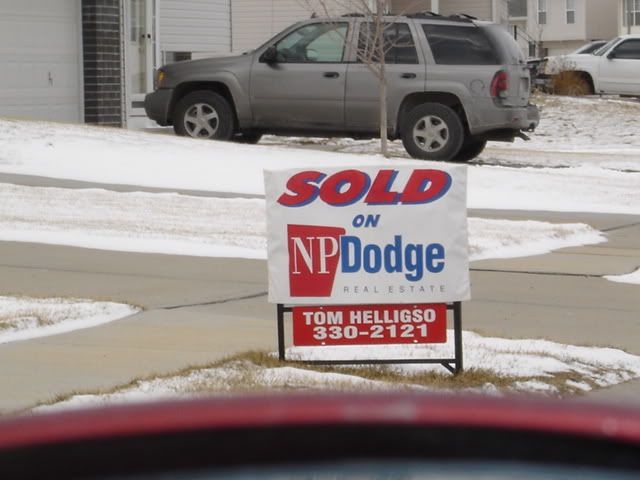 Then Thursday night we did a stash swap at SoP. So much fun and I left with less than I came with, which was my goal for the night.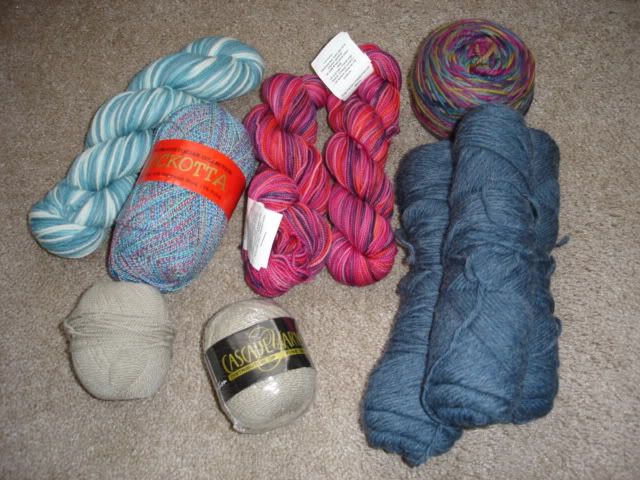 The blue/white wool is from Minnie, the sockotta and two skeins of Koigu were from Erin (the Koigu was a belated birthday present), the Cascade Fixation and the Lorna's Laces Worsted were from Judith, and the denim blue mystery yarn was from Jen. I got rid of two sacks worth of stuff (including some Koigu that was affectionately known as "clown barf"). Did you end up with that Erin?
And then on Friday, this came.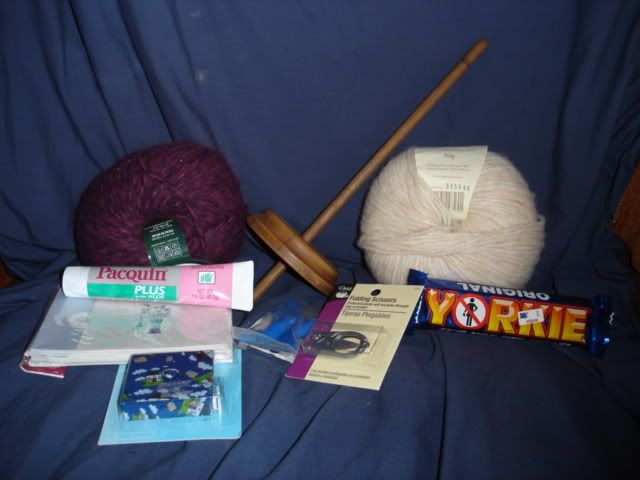 My first SP6 box. My SP is very sneaky and has a lot more faith in the US postal service than I do, since she only listed her return address as "Your SP". But look at the loot! Cream Rowan baby soft, Brushed Alpaca in a burgandy color, hand cream, notecards, point protectors, a tape measure, folding scissors, a Yorkie bar (I'm assuming chocolate, that I haven't eaten yet....and my SP told me that Yorkie from the Knittyboard recommended them), and a DROP SPINDLE!!!!!! Yay!!!!!! So now I have to learn to spin. Erin? Up for a little lesson on Thursday?
In knitting updates....
- The alpaca blanket is in the 4th stripe of 7. This is my mindless tv project. Yay for Olympic knitting!
- Simple stripes sock #1 is working it's way out the foot. I've gotten more comments on these socks than on any other I've done. Everyone's impressed with the stripes and thinks I'm doing a lot more than I actually am.
- No more on the leaf lace shawl.
- Nothing done on anything else. I'm kind of stalled out at the moment.
Guess that's it. Off to some uninterrupted knitting time.