gardening galore!
This is going to be a pretty picture-intensive post, so stay with me. Apologies to everyone on dial-up.
I spent Mother's Day weekend with my parents coming down here to visit. Since they were coming anyway I thought 'Woohoo!! Cheap labor!!' Thus my landscaping plans were born. The people who owned this house before me did absolutely zero landscaping and things were looking painfully bare....especially in the front yard. In order to save myself from having to mow an unmowable section of yard, we put in a little retaining wall and some perennials.
There was a lot of digging to get the sod out and some of crappy clay out as well. Here it is....1200+ pounds of retaining wall brick, 15+ bags of garden soil, and 4 bags of cypress mulch later.
Here's a view from above. There's six hostas (different varieties) and two coral bells in there.
And a pic of the pretty little coral bell blooms. I'm really hoping these come back next year.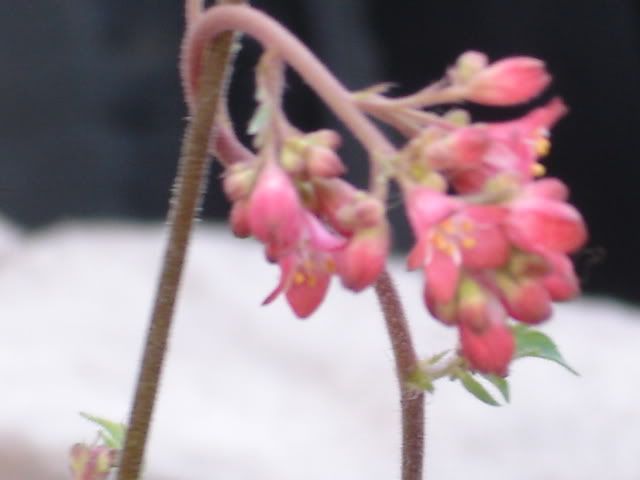 So that was all day Saturday. Then on Sunday, we dug up about 2 feet of sod on the other side of the front walk and planted six more hostas that Mom had split from her plants.
A very nice neighbor came over to let us use his sod cutter which made the work so much easier. Then at each front corner of the house we planted a bush.
A hydrengea on the left (which will bloom either blue or pink depending on the pH of the soil...I've only gotten blue so far and I'm holding out for it to stay that way).
And a burning bush on the right. I can't wait for fall with this one.
Finally....some knitting content. I finished my Jaywalkers at a concert on Thursday night. I think the next time I do this pattern, I'll either go up a needle size or add more stitches to the pattern. I did the larger size and I've still got to struggle to get them on. But once they're on, they fit like a glove. I wore them to work on Friday and they didn't fall down once.
I've started a new pair of socks using Lorna's Laces Shepard Sock in Black Purl. The pattern is the dreaded Conwy from Knitting on the Road that I was forced to rip back in mid-winter when it wouldn't go over my heel. I've gone up a needle size and I'm liking how it's working. I need to finish these up so I can start my newest thing......
....the Rockin' Sock Club socks. I signed up for the club as a late entry a couple weeks ago. The box came today and I don't have pictures yet, but I'll be sure to bring everything on Thursday to SoP. It's an awesome colorway and a very different pattern. Off to get supper, then knit all night.
ETA: I completely forgot to post pictures of the yarn that I spun, plied, and finally got untangled and skeined up. Here it is. It's 100% merino from Blue Moon Fiber Arts in Cornucopia.