another flower picture!
Well, the dark purple clematis decided to put out some double blooms as well. Here are 2 of about 10 that are in bloom right now.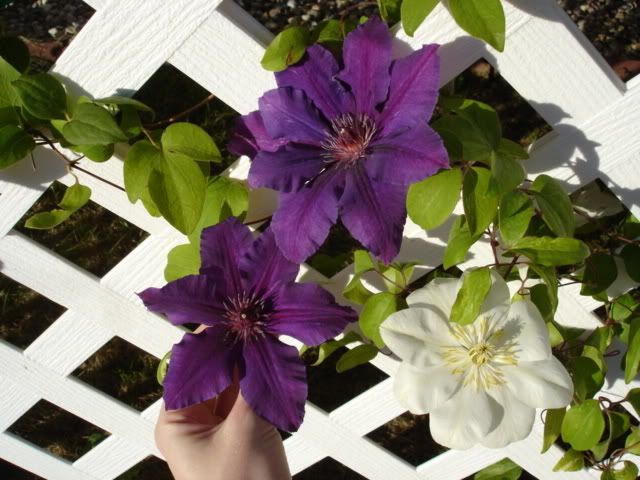 Knitting has been slow since I had to work this last weekend. I turned the heel on the current pair of socks last night. I'm hoping to get those done either this next weekend or sooner. The afghan for my co-worker's wedding present will probably turn into a 1st anniversary gift...and she knits so she's fine with that.
And I hit panic mode this morning at work when I realized that I've got less than 3 months until Christmas. I'm going to have to blow out my wrist if I want to get everything done on time. I'm already thinking I may have to scale back, but I'm not sure where.
I stopped at Wally World on my way home from work this morning and gave into the temptation that is the new release of the Star Wars trilogy. Now I've got all six movies on dvd, so I'm a happy geek. And I found that I've got fabric in my stash to make my Princess Leia dress out of for Halloween! Yay for stash busting!