The matches are out!
The knittyboard SP6 matches that is. I just got mine and sent off a super-secret email....and no....I'm not going to tell you who it is just in case she's good at snooping on the internet for info. So now I'm very excited to hear from my upstream SP. *sigh* Maybe there'll be a message when I get up in the morning.
So....updates since I went to SoP today and actually got some knitting done.
I finished the heel gusset on my second twisted swing dancing sock. This second one is taking forever! I feel like zoomed through the first and this one's just dragging. I want to get it done for sit and knit on Thursday though.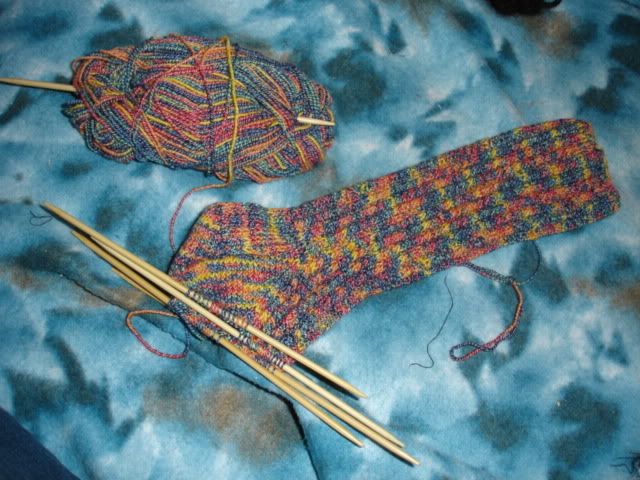 My leaf lace shawl in Tidepool has been languishing in a ziploc bag for the last month or so. Finally pulled it out today and did a whole pattern repeat while I was at SoP. Also discovered that my dental floss will not work as a lifeline with this yarn. Poo. So folks, watch as I attempt to knit lace without the use of a lifeline. Kids, don't try this at home. It'll only end in tears. But here it is in all of it's noodley glory because someone on the knitty boards wanted to see what lace looked like unblocked. Lovely.
Started the ombre alpaca blanket from LMKG tonight. I'm modifying it slightly since I bought local alpaca yarn that's a worsted weight and they only had 4 colors available instead of the 7 the pattern calls for. I'm about 4 inches into the first stripe using the natural dark brown and it's just
luscious.
Like knitting a big cup of rich brown coffee.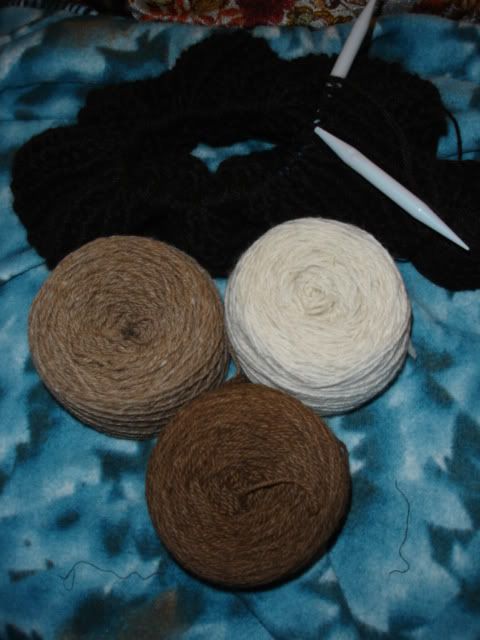 And house hunting had a slight set-back when the house I wanted to see this weekend was very suddenly taken off the market due to an offer being accepted. Double poo. Guess I'll have to keep looking.
Off to bed with me!