Woohoo!!
*does the happy dance does the happy dance....happy dance dance dance*
I have got a major reason to celebrate! I woke up this afternoon to my neighbors banging doors and being generally noisy (this has gotten worse over the last month....besides, they stole my parking places....so they were noisy, parking place stealing neighbors). Grumped my way to the computer and peaked out my front blinds to see what they were up to....yes, I'm a nosy neighbor...so sue me. Lo and behold, there was a moving van parked out front and they're loading boxes in. And all of their cars (I think they've got 6) were gone. Now, the cars were back about 7 or so, and they've been playing noisy bass, but I'm definetely hopeful that they're moving out this month. As in, they need to be gone by March 1. This probably means that they'll be banging around all day tomorrow/today while I'm trying to sleep, but as long as they're gone I'll be the happiest little elf imaginable.
And I finished Yoda #3 tonight! This is going to be the last one for a
long long time.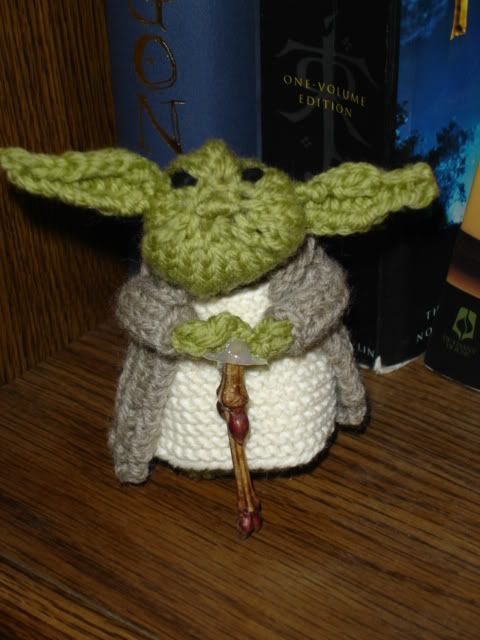 And I only have 4 weeks until I can move into my house! Yay!
And I finished the first simple stripes sock during the womens' long program and snapped a pictures as Sasha was doing her spiral sequence.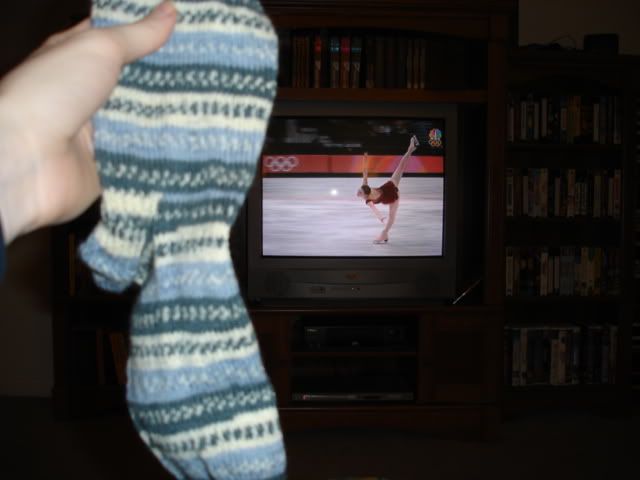 The only thing that I can think would make my week any better is if the guy I'm interested in would get off his duff and ask me out on Wednesday. That would just be the cherry on top of the sundae.