Hippy Crunchy...one sock down!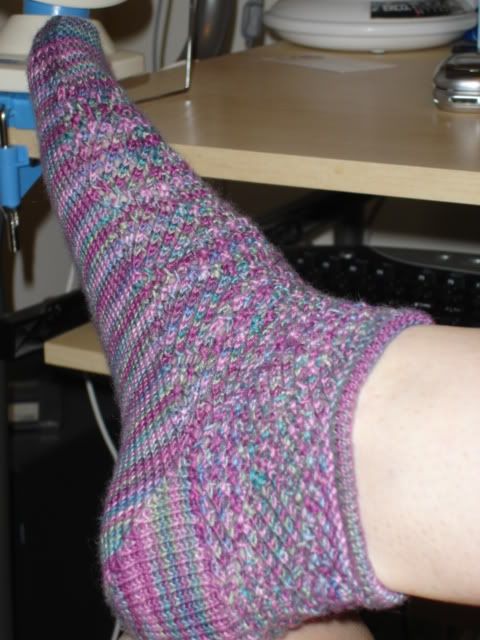 Here's the first sock of my July STR sock club yarn and pattern. The pattern was called Hippy Crunchy and the yarn was Peaseblossum. It's an interesting, fairly quick pattern. Rather than using different stitch counts for different sizes, you're supposed to just change needle size to either make the small/medium (2.0 mm) or medium/large (2.5 mm). I didn't have either one of those sizes. All of my size ones are 2.25 mm which turns out to be the perfect size for my foot.
Any one doing this pattern, I highly highly recommend getting yourself some super sharp dpns. I thought about using my bamboo dpns, but then I saw there were a whole bunch of k3tog's and sssk's in the mesh lace pattern.
But one is done and I'm going to cast on the second one before I go to bed this morning. After these are done, I need to get going on my Christmas knitting.
On the garage cleaning front, I emptied out about 4 rubbermaid totes and 6 paper boxes. I've still got 3 totes left with stuff I'm going to keep, but it's just been too darn hot to spend much time out there sorting through stuff and I don't want to bring the boxes inside, just in case any little creepy crawlies decided to make themselves at home in with all my stuff. But there is a significant improvement.